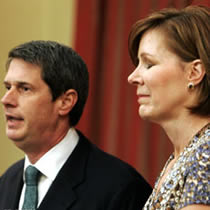 10. I was just looking for Ted Kennedy -- he's at the brothel every day.
9. I was just enjoying a glass of wine and pleasant conversation for $300 an hour.
8. I'm addicted to Wendys.
7. Louisiana voters have elected Bill Jefferson, Ray Nagin, Eddie Jordan and Kathleen Blanco -- they have even worse standards than I do.
6. The hookers all speak very fondly of me. I'm one of their favorite johns.
5. I am a gay American.
4. Wendy (my wife, not my whore) is going to Lorena Bobbitt me -- isn't that punishment enough?
3. I oppose gay marriage, not straight married guys visiting whorehouses. I never said I opposed that. I am not a hypocrite.
2. Bill Clinton was a regular there. They named a bedroom after him.
1. Doesn't everybody pay hookers $300 an hour to dress them in diapers?